I recently joined a group through Facebook called
the Hosties
. It is a application on Facebook that allows you to apply for sponsered events/parties. I applied for my first sponsorship and to my surprise was actually picked. It was for a Raisinet sponsorship. The whole process was extremely easy the application helps you set-up your event and send out the evites to your friends/family. Once you plan your date for you party, Hosties sends along your party package a few days ahead of your party date.
In our Raisinet package we received 2 packages of milk chocolate Raisinets, 1 package of dark chocolate Raisinets, and 1 package of milk chocolate cranberry Raisinets, as well as a few recipes to try out. I immediately set-out to have a baking party, and bake we did! We made brownies, and cookies, and bars GALORE! They all turned out fantastic and the Raisinets really helped to add something a little different to the recipes. Here is the Cranberry Raisinet Oatmeal bar recipe that we made: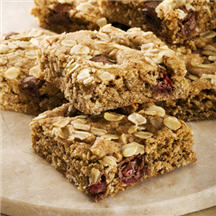 Cranberry Raisinet Oatmeal Bars
Nonstick cooking spray
1 1/2 cups whole-wheat or all-purpose flour
1 teaspoon baking soda
3/4 teaspoon ground cinnamon
1/2 teaspoon salt
1 cup packed brown sugar
3/4 cup (1 1/2 sticks) butter or margarine, softened
1 1/2 teaspoons vanilla extract
1 large egg
1 3/4 cups old-fashioned oats, divided
1 (5.5-ounce) package Cranberry NESTLÉ RAISINETS Milk Chocolate-Covered Dried Cranberries
Preheat oven to 350°F (175°C). Spray 13 x 9-inch baking pan with nonstick cooking spray.

Combine flour, baking soda, cinnamon and salt in small bowl. Beat sugar, butter and vanilla extract in large mixer bowl until creamy. Beat in egg; gradually beat in flour mixture. Stir in 1 1/2 cups oats. Spread into prepared baking pan. Sprinkle with Cranberry Raisinets; press into dough. Sprinkle with remaining ¼ cup oats.

Bake for 20 minutes or until golden brown. Cool completely in pan on wire rack. Cut into bars
Makes 24 bars.
Estimated Times
Preparation Time: 15 mins
Cooking Time: 20 mins
Cooling Time: 30 mins cooling
Nutrition Facts: Serving Size (1/24 of recipe): Calories: 170 Calories from Fat: 70 Total Fat: 8 g Saturated Fat: 4.5 g Cholesterol: 25 mg Sodium: 150 mg Carbohydrates: 23 g Dietary Fiber: 2 g Sugars: 14 g Protein: 3 g
Recipe and photograph are the property of Nestlé® and
Meals.com
, used with permission.
Here are a few pictures from our baking day:
Here is a picture of my party pack:
I will make sure to let you all know when they have another sponsorship available, so you can sign up for Hosties as well!! (they don't seem to let you sign up in the meantime, sorry!)